Sea of Dreams
Samantha Strowbridge dreamed of being a mariner from an early age, and her work as a chief mate on board an offshore supply vessel has taken her from the Atlantic to the Pacific.
In the past decade, she has worked her way up the Atlantic Towing Ltd. ladder – from third officer to chief officer and senior dynamic positioning operator on board the Atlantic Raven.
She grew up in Grand Bank in a fishing family and at the age of 12 told her family she wanted to be a captain.
"I always used to say I wanted to be captain of a big boat – a fishing boat probably wasn't big enough."
This week, Ms. Strowbridge officially receives her Bachelor of Maritime Studies (Maritime Management) during convocation ceremonies in St. John's.
The online degree program is offered by the School of Maritime Studies.
Master mariner ticket
Five years ago, Ms. Strowbridge received her Master Mariner Certificate of Competency from Transport Canada – entitling her to work as a ship's captain on any vessel globally.
"It's the highest ticket – there are no restrictions on vessel size or the area you work in."
The next step was starting work on her maritime studies degree. She started part-time in 2019 and was able to pick up the pace while isolating for work during the pandemic.
"I wanted to get my Transport Canada certificates first. I figured if I had enough discipline to do that, I'd have enough to do the degree program."
She says the Transport Canada certification can be done at your own pace, while the online degree has deadlines for projects and tests.
"It's a bit more structured and I found getting the ticket first was an easier way for me to transition into online learning. It seems like the older you get, the busier you get."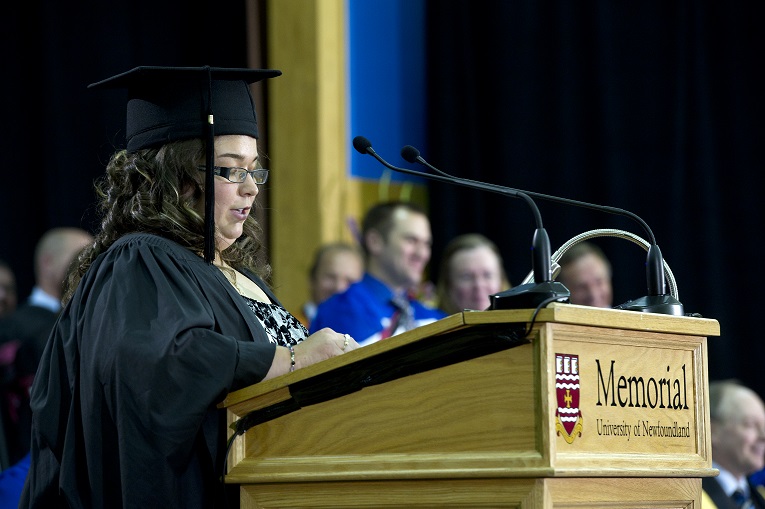 Coast Guard duties
Since 2018 – the year she became chief mate of the Atlantic Raven – Ms. Strowbridge has been mostly working off the coast of British Columbia.
The vessel is on contract to the Canadian Coast Guard to provide emergency tows to large container ships, tankers and bulk carriers.
"We do the normal coast guard duties, too. We're a vessel of opportunity for search and rescue. It's a bit different than what we were used to on the East Coast."
Atlantic Towing vessels typically support and supply the province's offshore oil fields on the Grand Banks.
For the coast guard work, she says the crew received additional training in inshore search and rescue and environmental response.
A decade ago
In 2012, Ms. Strowbridge completed her Diploma of Technology in Nautical Science – and her final year was a busy one.
"It was the first year they had the Nautical Skills Competition at MI and my team won."
The competition includes a series of exercises in dynamic positioning, seamanship, cargo work, ship handling/navigation and offshore operations. The names of her team top the list of those engraved on the Captain Jim Thorpe plaque.
These days, as a member of the Master Mariners of Canada (NL Division), she volunteers with the annual competition whenever her work schedule permits.
"I usually judge the fast-rescue challenge. I really enjoy helping out and talking with the students."
Public speaking
Two months before graduation, Atlantic Towing offered Ms. Strowbridge a job as third officer. She started work two days after the June graduation ceremony.
During that ceremony, she was awarded two medals for academic achievement – the Governor General's Bronze Medal for highest average for all MI programs and the Marine Institute Bronze Medal for the highest average in the nautical science program.
She was also the ceremony's student speaker.
"At the beginning of my time at the Marine Institute, I never thought I'd be willing to get up and speak at an event like that. By the time I was finished, I talked at a lot of different public events."