Aiming for a Healthy Planet
Olivia Lymburner had originally planned to pursue a healthcare career, even completing a certificate in pre-health sciences at Mohawk College in 2019.
However, her "heart was in the environmental field" and in 2020, she began the marine environmental technology diploma at the Marine Institute.
Her love of the environment and concern for global climate issues inspired her to pursue the environmental field as a career.
"Climate change is a prominent issue that we are facing, and I really wanted to be a part of that puzzle,"
"I want to be a part of tackling those issues and creating different ways to manage and mitigate what we can."
Community connection
When deciding on a school to attend, Ms. Lymburner contacted an MI alumna for advice.
"I reached out to someone who had taken the program. I was interested in the smaller class sizes, and she said it was a great opportunity to have a really good connection with your classmates."
In addition to finding connections in class, Ms. Lymburner joined the Marine Institute Student Union (MISU) during her first year.
"I liked being involved with the students and supporting the students, mingling a little bit more than I maybe would have if I weren't in MISU."
During her time with MISU, she held the title of counsellor at large for three semesters. For the past year, she was Vice President of Academics with the group.
Ms. Lymburner has also volunteered with an animal sanctuary and The Heart and Stroke Foundation.
Work terms and fieldwork
Ms. Lymburner is currently working with the Nature Conservancy of Canada (NCC) at the Grand Codroy Estuary on the West Coast of the province. This is a protected, wetland area with diverse bird populations.
"We're completing inventories of plants, animals, communities, and physical features on NCC properties in all ecosystems to identify stewardship actions and threats."
Right now, the team is focusing on monitoring and studying bats living in the protected area.
Last summer she worked as a junior biologist with Edgewise Environmental in St. John's.
"I gained experience with some consulting and also training aspects that we use in the field—"
We did marine mammal observing, seabird observing, and passive acoustic monitoring. I actually had the opportunity to get my marine mammal observer certification and work offshore."
As part of the Marine Environmental program, Ms. Lymburner also had the opportunity to travel to Grenada in February.
The group of MI students worked with students from T.A Marryshow Community College (TAMCC) to work on applied research projects and perform a baseline inventory of a beach. This involved sampling microplastics, performing beach surveys, and testing water quality.
"We also got to explore Grenada and learn about some of the local history and spend time with the community, it was awesome."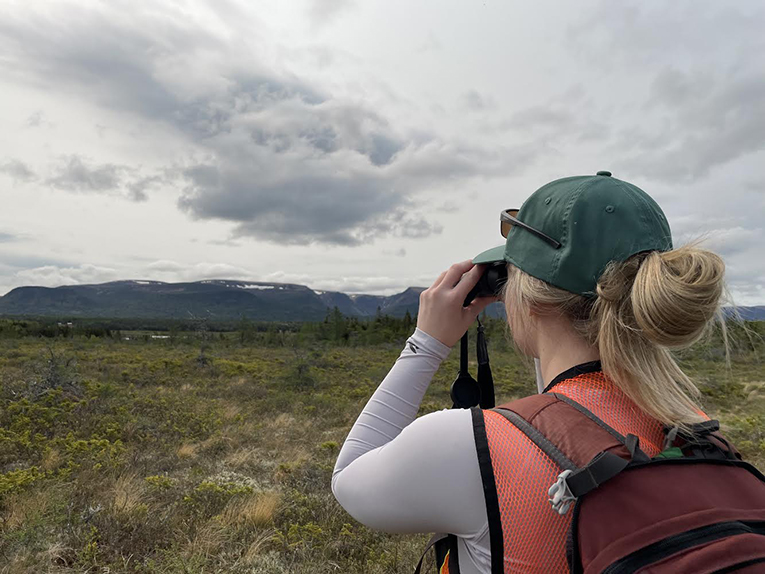 Scholarships and Awards
Ms. Lymburner was twice the recipient of the Fry Family Foundation Undergraduate Leadership Award. Most recently, she was presented with the award at this year's scholarship ceremony with six other student winners.
This award recognizes a student who demonstrates outstanding leadership throughout their program and community involvement. Nominees write an essay on what leadership means to them.
"I felt that moving to Newfoundland, I really put my best foot forward and was trying to be involved with the community and meet new people —"
"I decided to apply for the award, I felt pretty confident in myself and proud with what I had accomplished. I just went for it."
Next Steps
Ms. Lymburner will be starting full-time studies in September to complete her Bachelor of Technology at the Marine Institute. After she completes her degree, she hopes to start working in her field.
While she enjoys working on the water and with marine species, she appreciates that the skills she has learned throughout the program are transferable to different sectors of the environmental field.
"I am so fortunate for the time I had at MI and the experiences I have taken away from it. I love my field of work and am looking forward to where it will lead me."