Wind at his back
A behind-the-scenes look at the annual Nautical Skills Competition at the Marine Institute more than four years ago set Nathan Mullins on course to working at sea.
A few weeks earlier, the Torbay high school student had booked himself a tour of the institute and the nautical science program caught his attention.
"I was looking at the different post-secondary options and trying to see what was out there for me. I did a tour of the Marine Institute and was shown the different simulators. I learned a lot about the programs and nautical science really piqued my interest.
"A few weeks later, I was invited to the Nautical Skills Competition and that really solidified my choice."
Hosted by the Master Mariners of Canada (N.L. Division), the competition is held annually at MI. Teams complete a series of challenging marine exercises and each team is randomly selected from participating students in each year of the nautical science program.
"I really enjoyed it. I was impressed seeing the students from all years working together in groups and learning from one another."
He graduates with a Diploma of Technology in Nautical Science, and is already working on a Bachelor of Maritime Studies in maritime management.
Both programs are offered by MI's School of Maritime Studies.
Student speaker
At the June 24 graduation ceremony where he was the student speaker, Mr. Mullins highlighted the "challenging educational experiences" faced by fellow graduates.
"First in January of 2020, we were hit with the storm of the century better known as snowmageddon which caused school to be closed and put us two weeks behind.
"A few months later, the COVID-19 pandemic struck Newfoundland and Labrador and sent us all into lockdown. We had to quickly to adapt from learning in person to being taught virtually. We did not know if we were even going to be able to write our exams or go on our work terms.
"Even with all these challenges, we found a way to persevere and have made it to our graduation day."
Amazing opportunities
That perseverance also enabled a series of opportunities in his final year at MI.
Last fall, he was a speaker during the meet-and-greet session with new and returning nautical science students.
"It was great to be able to help them settle into campus again. Some of them had never been on campus before."
In November, he was one of four student panelists presenting at MI's three-day virtual symposium, Propelling the Blue Economy. It included a question and answer session on the topic: Diverse Approaches to Education and Training to Meet Evolving Demands of the Blue Economy.
"That was an amazing experience to be able to speak with all these different people in different industries, hear all the viewpoints and learn from one another. It was a very rewarding."
During the past four years, he also participated in the Nautical Skills Competition – winning the most recent event held in March. As the first-place team, his name and those of his six teammates are engraved on the competition trophy, the Capt. Jim Thorpe Plaque.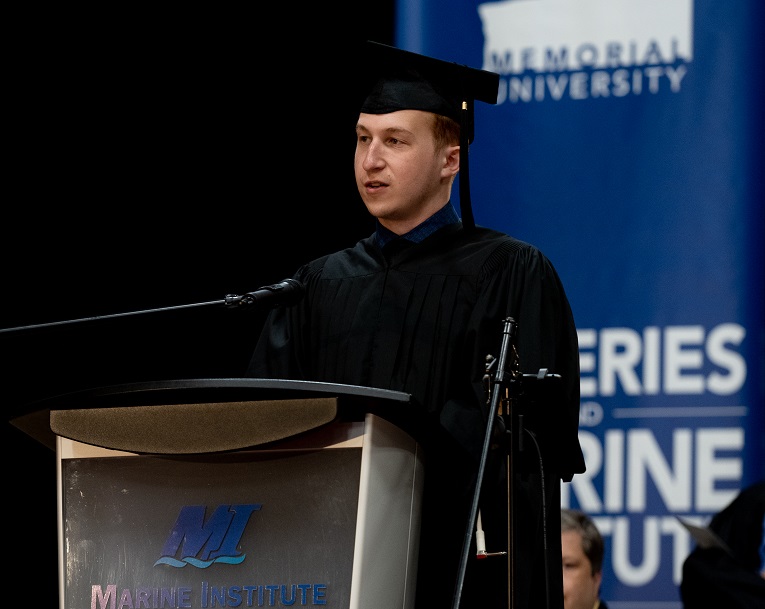 Scholarships and awards
During his time at MI he received eight scholarships and awards, including the Charles Evans Memorial Scholarship, Husky Energy Future Leaders Award and Vice-President's Fry Family Foundation Excellence in Leadership Award.
"Every scholarship definitely means a lot to me – it means a person or organization thought that I was worthy to receive it.
"The Husky scholarship also allowed me to get my work terms and meet some amazing people. So overall it's been a great experience for me the last four years."
The Husky award includes sponsorship of the recipient's second sea phase. Mr. Mullins completed about 300 sea days of the required 360 days at sea – working onboard two vessels in the province's offshore oil industry.
Grand Banks and the Great Lakes
In all, he worked on three vessels – two on the Grand Banks, one on the Great Lakes – as a navigation cadet learning about ship operations on deck, bridge and in the engine room.
"It was a bit of everything. I enjoyed it all – it was nice to see both sides of the industry."
He worked onboard the Gaia Desgagnes operated by Transport Desgagnes. The tanker transports refined oil products and chemicals through the St. Lawrence Seaway and the Great Lakes.
The offshore work terms took him to the Skandi Vinland, a DOF Subsea offshore supply vessel supporting the White Rose oilfield. Next was the Dorset Spirit, an Altera Infrastructure shuttle tanker transporting crude from the offshore fields to the transshipment facility in Placentia Bay.
With those experiences behind him, he's prepared for wherever his maritime career takes him.
"I'm enthusiastic for the next chapter of my life and excited to see what the future holds."