Carrying on a family tradition
Natalia Lashina is carrying on a family tradition of designing ships – something she discovered during the naval architecture program she started three years ago.
Her father is a naval architect, as was her grandfather.
Naval architecture is the art and science of designing boats and ships, including the form, structure and stability of hulls.
"My grandfather was also a naval architect. It was really cool when I found that out – it's like I'm following a family legacy."
This summer, she completes her Diploma of Technology in Naval Architecture, a three-year program at the School of Maritime Studies focusing on designing large ships, small craft and floating structures.
"I enjoy the design aspect and creating something that floats. I like architecture as well, but I feel that naval architecture is more complex because what you design has to take into account weight and ocean dynamics."
Designer job
Originally from Kaliningrad, Russia, she now lives in C.B.S. with her parents and her older brother.
Her family moved to the province in 2008 when her father landed a job with Genoa Design International Ltd., a local company specializing in production design and 3D modelling services for shipbuilding and offshore industries worldwide.
Ms. Lashina has also landed a job as a designer with Genoa Design, and plans to do a Bachelor of Technology part-time while working.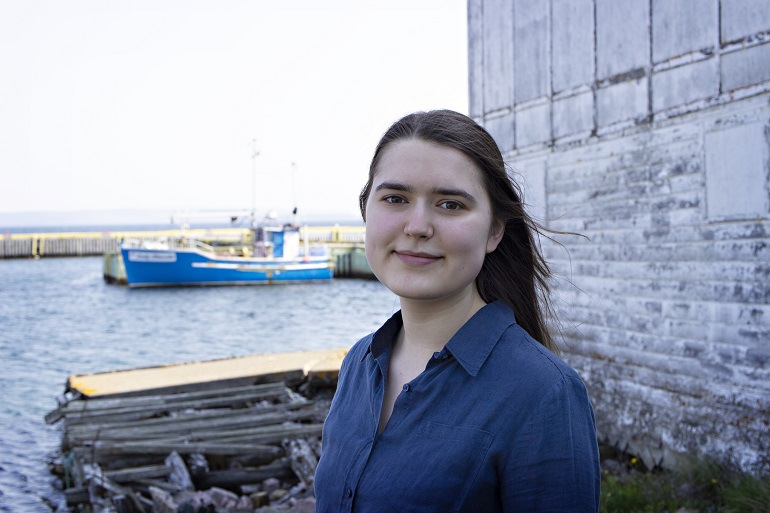 It's not her first time at the company – she had a summer job there last year. She also visited during a take-your-daughter-to-work day and watched employees model ships using computer assisted design software.
"I learned a lot about naval architecture and building ships. I sat down with different employees and saw them model different parts of the vessel – I like modelling. I've been able to do that during the past three years in the program and that was really fun."
Ship project
Ms. Lashina received several scholarships during her time at the Marine Institute, including the Daley Scholarship, Canadian Federation of University Women Scholarship, John Butt Memorial Scholarship and the Flight 491 Legacy Fund Scholarship.
She also had an opportunity to design a vessel as part of the program's final-year project.
"I designed a container ship – mine is only 165 metres so it's not that big. Its specialty is that it has a dual-fuel engine that runs on liquefied natural gas and light fuel oil, and is more environmentally friendly than a generic diesel engine."
As pandemic restrictions eased, she was able to submit work in person rather than online.
"It was nice to see all the instructors again. We had a lot of drawings to create and it was nice to have the instructors look them over and give their input on how we could improve our project."
Future plans
She's also considering a move to Europe in future to make it easier to visit other family members, including two more older brothers, in Russia.
"After I get a few years' experience I'd like to move maybe to the Netherlands. Naval architecture is really big there too. That's the plan anyway – I'd have to visit before making a decision if I want to move there."
She has a few other items on her to-do list, including visiting a shipyard someday.
"I'd like to see a ship being built and going from a computer model to an actual ship.
"When I was at Genoa Design, they showed us a picture of one of the fabrication drawings and it was next to the actual built part from the ship. It was huge and so cool to see the drawing next to this huge piece of the structure. That would be really cool – seeing your work actually being built."