Navigating the world of underwater robotics
Megan King hasn't looked back since deciding that working with underwater robots was the career for her.
Three years ago, she was rethinking her career plans following a year at university and recalled the experiences of her high school robotics team. She enrolled at the Marine Institute (MI) the following September.
"It's the best decision I ever made. I haven't made a lot of important decisions at this point in my life, but that one was definitely top tier for me. It worked out nicely."
She graduated in June with a Diploma of Technology in Underwater Vehicles and Technician Diploma in Remotely Operated Vehicles. She was also student speaker during the graduation ceremony.
Prior to graduation, she landed a job as a junior ROV pilot technician with Oceaneering Canada. It takes her offshore for 28-day work rotations.
She also plans to continue her education at the School of Ocean Technology with a Bachelor of Technology.
High school robotics
Ms. King grew up in Paradise and attended Mount Pearl Senior High, where she developed an interest in remotely operated vehicles (ROVs) as a member of the school's Husky Explorer Robotics team.
Her team won the regional competition held annually at the Marine Institute in 2019 and went on to the international competition held in Tennessee.
"We also won first place there. I was like 'Wow, this is so cool.' It was something I never had exposure to before and I really liked it."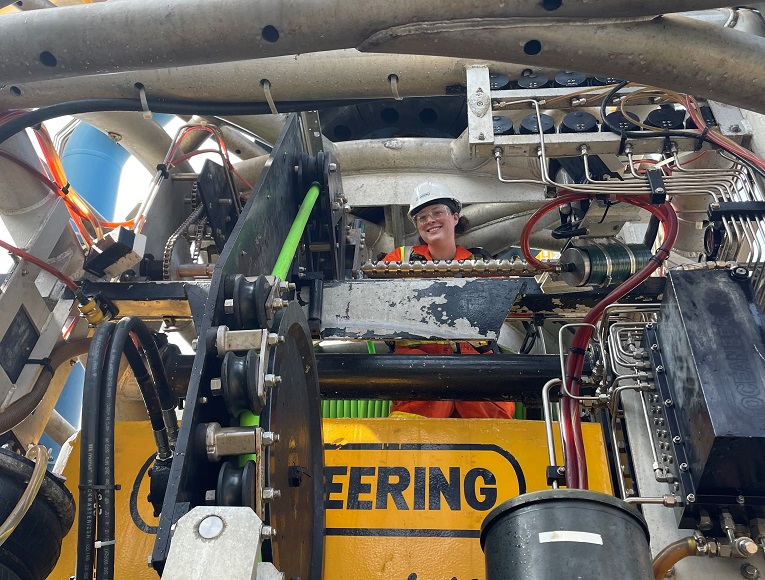 Busy three years
Her three years at the Marine Institute were busy with work terms, projects and scholarship opportunities.
In May, she participated in a panel speaking about the workforce of the future at the Canadian Women in Ocean Industries Leadership conference.
"We all talked about how we got into the industry and what could we do to encourage more young women and marginalized communities and groups to get involved."
She says there are few women working offshore on her ROV teams and sometimes she is the only female team member.
"I've developed confidence and the ability to be able to stand up for myself through my program at school and working with all the guys. It didn't come naturally, but it's something I've learned."
Last October, she was one of several students working with MI International in a Canada Global Skills Opportunity program to share ROV knowledge and skills with community college students and sea cadets in Barbados.
"We also worked with the Barbados Coast Guard and coastal management zone units to monitor their coral reefs and waters."
Autonomous robot project
She spent a work term last year at the Hibernia platform with Wood Group on a pilot project to develop an autonomous robotic inspection program for petroleum facilities.
"The robots collect various types of data – acoustic, visual and thermal. We took that data and used photogrammetry to create 3D models and overlaid that data onto virtual models. It produces a high-definition, very realistic model. It was my first time doing this kind of work."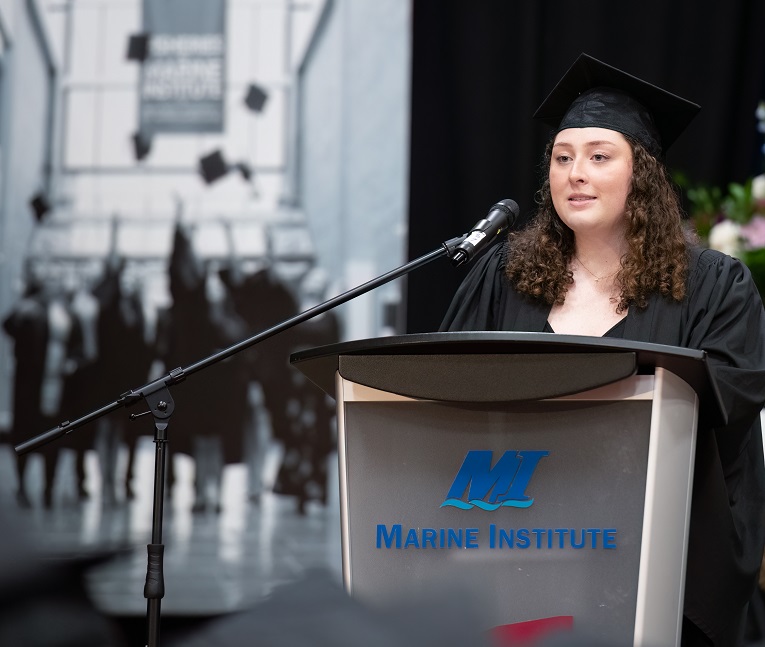 Scholarships and awards
Ms. King also participated in the Students on Ice Youth Expedition in the summer of 2022. The education program, which usually visits Polar Regions, took a different route for its first post-pandemic voyage.
The trip included circumnavigating Cape Breton, stopping at the UNESCO World Heritage Reserve at Bras d'Or Lake and visiting the Sable Island National Reserve that is home to more than 550 wild horses.
She also received a number of other scholarships and awards at MI, including the Public Service Credit Union Award for Leadership presented to a School of Ocean Technology student based on academic merit and leadership and dedication to their MATE ROV competition team.
She was twice received the Neil Gall Memorial Leadership Scholarship in Ocean Technology awarded to a student studying underwater vehicles and demonstrating a significant contribution to leadership.