Mark Gauci masters online programs and tools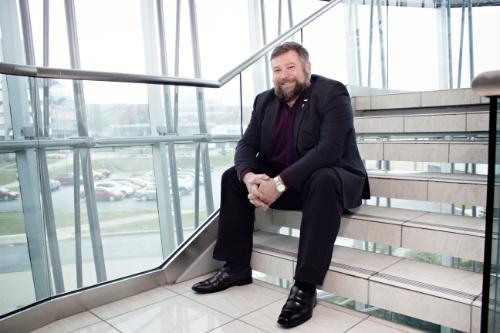 Mark Gauci is a busy man on a mission.
The St. John's native and Canadian Armed Forces veteran is co-founder ABA Access Inc., a start-up software company that is developing a suite of online therapy tools for children with autism.
This spring, he graduated from the Marine Institute with a , an online program designed to equip students with the knowledge and tools to manage complex technical operations in innovation-driven industries.
"It fit like a glove. It was relevant to everything we've been going through. As a business, every single course contributed something to our business," he said.
"My only regret is that I couldn't take all the courses. Every single course, I was able to apply it to what I'm doing here."
Tech start-up
For the past nine months, his company has been a client of the Genesis Centre, Memorial University's incubator for technology-based ventures.
ABA Access is now preparing for a beta test with Eastern Health.
"Once the beta test happens and is successful, that will validate our product for the world," said Mr. Gauci, who is also president and CEO of the company.
Proving the technology works is only half the job ahead of the company.
"We need to prove it will increase access to health-care services and we also have to demonstrate it will save money."
For that, he's also looking for funding that will help take the software to the next stage.
First-hand experience
Mr. Gauci spent 20 years in the armed forces. For most of that time, he was an army signals operator, specializing in satellite and high-frequency communications and IT network security, before switching to aircraft avionics.
He also holds a bachelor of science in computer science from Memorial and a certificate in information technology (IT) from Nortech College.
The idea for an online therapy tool came from the first-hand experience of his son, who was diagnosed with autism in 2010. It was the same year he started his undergraduate degree.
"I had the unique opportunity of observing my son's therapy because of my student schedule. I saw a great deal of work being done, but I noticed there was a lot of paper and a lot of inefficiencies."
He jokes that he started out just trying to replace binders of paper files.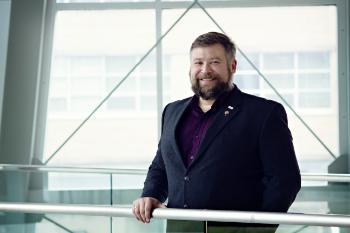 "Every child that takes part in this program has a stack of binders a metre-and-a-half high that has to be kept for seven years."
When a senior therapist visits a child at home, he noted that two-thirds of a three-hour session could be spent updating and copying files.
Those observations stuck with him and six years later he set out to develop a time-saving, online platform that centralizes therapy data for each client and enables access to a variety of health-care providers.
Flexible schedule
About the same time as Mr. Gauci launched ABA Access, he started his master's degree and found the online program provided the flexibility he needed.
"I think it's just being able to have some control over the pace at which I did the work. From the time you receive an assignment until the time it's due, it's entirely up to you how you do it.
"It's always scary at first because you wonder if you're doing enough or doing it right. But usually after that first week that fear goes away and I know where my areas of responsibility are."
And it worked for him.
"My grade point average was considerably higher in my master's."