Following her dream of a life at sea
Katie Barker charted her course toward a maritime life following an Arctic voyage when she was a 16-year-old sea cadet.
She grew up in Cobourg, a town on the shores of Lake Ontario, and these days lives in Torbay.
"I was drawn to working in a marine field at a really young age."
Ms. Barker will graduate with a Diploma of Technology in Nautical Science, which prepares students to become ship's officers in the international maritime and offshore industries.
The four-year nautical science program is offered by the Marine Institute's School of Maritime Studies.
Overcoming challenges
It hasn't always been an easy course to follow.
Her plans to complete her program in four years were delayed when she was diagnosed with Hodgkin's lymphoma in 2017 and returned to Ontario for treatment.
By December of the same year, she was back in St. John's to resume her nautical science program on a part-time basis.
And by the following summer, she headed to sea for a 15-month work term that took place on three offshore supply vessels – one based in based in the U.K. North Sea, the other two in the Newfoundland and Labrador offshore oil and gas sector. (She had previously completed a 60-day work term on another vessel earlier in her program.)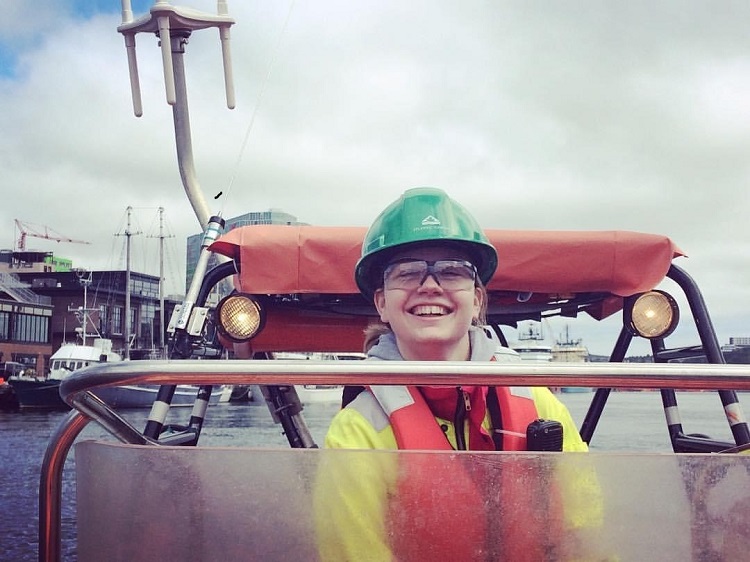 "I was only seven months out of chemo when I hopped on a plane and went to Scotland. It was very challenging, but I completed it and it was an amazing experience.
"I'm now two-and-a-half years' cancer free."
The COVID-19 pandemic also pushed back the completion date of her program to later this summer and she and her classmates will be part of the graduating class of 2020.
This week, she resumed the final technical session of her program, which includes required training courses and certifications that were postponed due to the pandemic.
"We need to do this hands-on training in groups because most of it involves teamwork."
Opportunities
At the age of 12, Ms. Barker joined the Royal Canadian Sea Cadets and participated in weekly seamanship training and summer camps in Ontario and Nova Scotia.
Four years later, her interest in a life at sea was cemented when she landed a sea cadet deployment with the Canadian Coast Guard on board the Henry Larsen during a six-week voyage to the Arctic.
She job-shadowed the crew and also learned about educational opportunities.
"I had met an officer on the vessel and she had done nautical science at the Marine Institute, and I was like 'Oh, I would like to go there – I like this job.' That was the route she took, so I figured I'd take the same route.
"After that trip with the coast guard, I told my Dad 'I think this is what I want to do.'"
Her father, a retired marine engineer on Great Lakes vessels and a former member of the Royal Canadian Navy, helped her figure how to go about it.
"Growing up, no one really told us about this career or that it was even an option. I had to do it all on my own and with the help of my Dad."
Nautical networking
Last fall, she participated in the Master Mariners Symposium in Ottawa, where she and another MI student were members of a four-person junior officer panel.
"We talked about our experiences in the marine transportation field and what schools and industry could do better to welcome more women into this environment."
A month later, she attended the 11th Annual Women on the Water Conference held in Galveston, TX, thanks to sponsor Algoma Central Corp.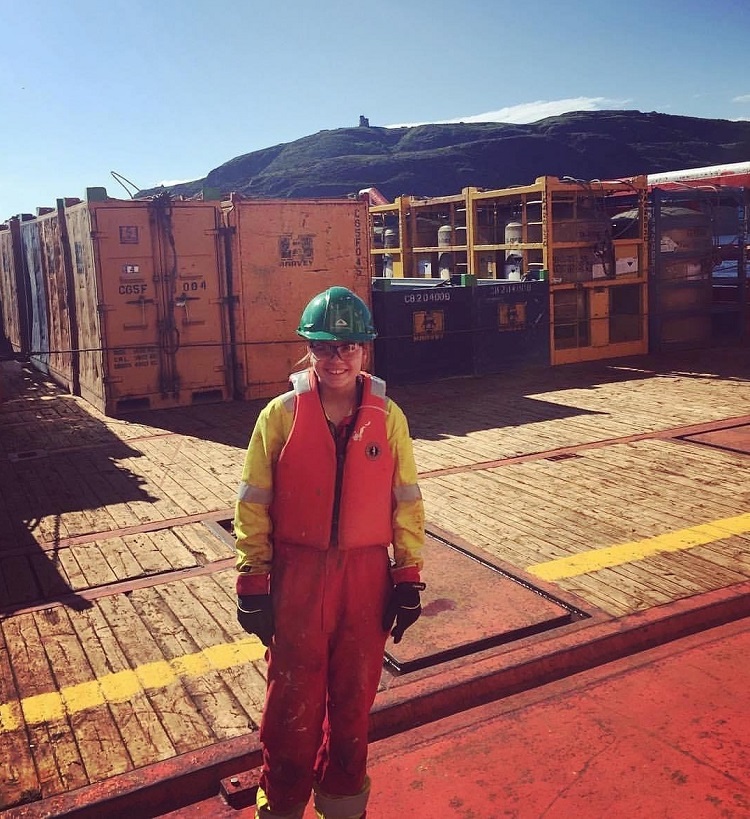 She also regularly participated in annual Nautical Skills Competitions in which MI students test their maritime skills in a series of exercises, such as dynamic positioning, seamanship and ship-handling/navigation. The teams consist of students from different year classes.
"You don't know them most times, but that's how it's going to be on a ship – you're not going to know everyone. You really learn a lot about teamwork to complete the competition challenges."
Strengths and weaknesses
Nautical science students spend at least 360 days at sea as part of their program, and to achieve this Ms. Barker worked on four offshore supply vessels all operated by Atlantic Towing.
She faced some challenges and says the job of a supply vessel deckhand, for instance, involves a lot of physical labour to move parts and cargo.
"I'm just not going to be able to the same job as a 200-pound man, but I know where my strengths and weaknesses are. A lot of the guys could move things by hand, but I got familiar with using the crane so I could help the guys with that. You've got to find ways around it.
"Walking in with a positive attitude helps."