Sees a wave of opportunity at home
Kathleen Fillier had a clear eye on her future when she signed up for the marine environmental program three years ago – one that includes living and working in Newfoundland and Labrador.
She figures the program's hands-on training and experiences will enable her to do just that.
"I think the opportunity for fast-paced and rewarding careers in Newfoundland and Labrador is enormous. The environmental, marine and marine environmental industry in the province is growing exponentially and this program gears you up to lead that growth."
It also gave her an opportunity to follow in her father's footsteps.
He was part of the last graduating class at the College of Fisheries, Navigation, Marine Engineering and Electronics as the Marine Institute was known before joining Memorial University in 1992.
"He was happy when I was thinking of going to MI. He was like 'Yes, finally.'"
Future plans
This summer Ms. Fillier completes a Diploma in Marine Environmental Technology. The School of Fisheries program focuses on the protection and management of marine environments, rivers, lakes and coastal areas.
She plans to continue her education this fall with an online Bachelor of Technology, and she's already considering a master's degree in future.
"I found through the marine environmental program that I'm really interested in fisheries, ecology and anything associated with stock assessments."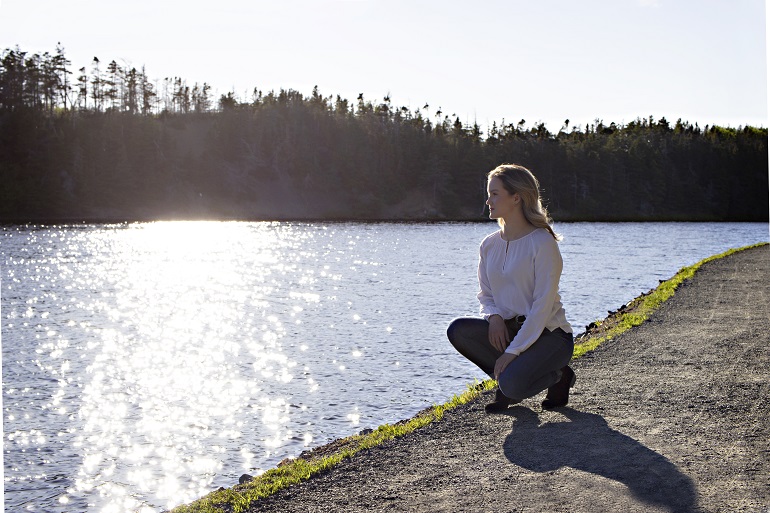 Along with her studies, she volunteered with the annual World Oceans Day event; Let's Talk Science, an outreach program providing science, technology, engineering and mathematics learning experiences to youth; and MI Lead, a student leadership program supported by the Fry Family Foundation.
During her first year, she was awarded an entry scholarship and the renewable W. Gary Rowe, QC Scholarship in each of the past three years. This year, she received the Vice President's Fry Family Foundation Excellence in Leadership Award.
She is on a summer work term with Newfoundland Power assisting with a five-year plan for its avian monitoring program, creating an environmental protection plan for a transmission line rebuild, assisting the climate change adaption group, and working on health and safety programs.
Fun and practical
Ms. Fillier first heard about the marine environmental program when Marine Institute recruiters visited her high school.
"I really didn't know what I wanted to do, but I've always had an interest in the ocean and the marine environment because I live in Clarenville right across from it.
She says the program sounded like a fun, practical way to land a job.
"It turned out even better than I thought it would be. I ended up in a really practical program that gave me the experience to hit the ground running."
She enjoyed the technical sessions that provide hands-on learning experiences, safety training and certification in operating small vessels.
"It's easier to learn things when you're actually doing it.
She also appreciated the small class sizes and knowledgeable instructors.
Teamwork lessons
Her final-year team project determined whether or not crude oil affects blue mussels' ability to attach themselves to rocks.
"It made a difference. That was a surface-level experiment."
As part of the project, teams work in labs, write a paper and give a presentation to an audience in MI's Hampton Hall. Due to pandemic restrictions, the lab work and presentations were done online.
"It's a big team effort. We get the research and paper writing experience, but we also get the teamwork experience, how to delegate and meet timelines and deadlines."
And she has some words of advice for future students.
"Take every opportunity you can – it just opens another door for another chance and it's going to help you in the future. You're going to learn more and you're going to get more out of it."