The art of science
Janine O'Rielly made a "complete career switch" when she started the marine environmental technology program in 2019.
A year earlier she had been living in Toronto where she completed a Bachelor of Fine Arts from the Ontario College of Art and Design. Specializing in drawing and painting, she did a project on the urbanization of river ecosystems that sparked an interest in studying freshwater environments.
"I was struck by the tenacity of the plants and animals along the Don River. I saw deer in the middle of Toronto in this ravine where the river is – it was a special place for me."
When she returned home to St. John's, she began looking at programs in growing environmental sectors.
"What drew me to the marine environmental program was that it's really interdisciplinary. I was interested in how it touches on chemistry, biology, geography, policy and the law aspect of environmental management as well."
She also knew graduates who shared their experiences.
"I saw that they were employed and doing meaningful work to help make a difference – and that was really attractive."
Offered by the School of Fisheries, the Marine Environmental Technology program focuses on the protection and management of marine environments, rivers, lakes and coastal areas.
Technical project
As part of the program, students complete a technical project to put into practice what they've learned in the classroom.
With an interest in the Arctic and climate change, Ms. O'Rielly set out to develop a tool to sample for microplastics in ice.
"The technical project was a huge bonus. It showed me how to set up an experiment and schedule myself to meet a deadline or to get a result by a certain point."
Unfortunately, the prototype didn't work but she learned valuable lessons along the way.
"It's very similar to painting actually. In painting we often were told if you're aiming for perfection, it's going to be an uphill battle that you won't win. I'm learning that science is very similar – you've got to always be prepared to embrace failure and move on from that."
Second chance at prototype
She is currently working as a lab technician at the Civic Laboratory for Environmental Action Research, or CLEAR for short.
An interdisciplinary natural and social science lab space dedicated to good land relations, CLEAR is directed by Memorial's Dr. Max Liboiron.
"My role there is primarily in the wet lab – I help with processing animal samples that are given to us to look for plastics in their gastro-intestinal tract to see if they've eaten any microplastics."
She's also working with Dr. Liboiron to develop an inexpensive, open-source tool to sample microplastics in sea ice.
"When my first prototype did not work, CLEAR was generous enough bring me on to continue to develop it with them. The target audience for this instrument would be primarily citizen scientists. We're trying to create a tool that is made of very easily accessible materials and cost-effective."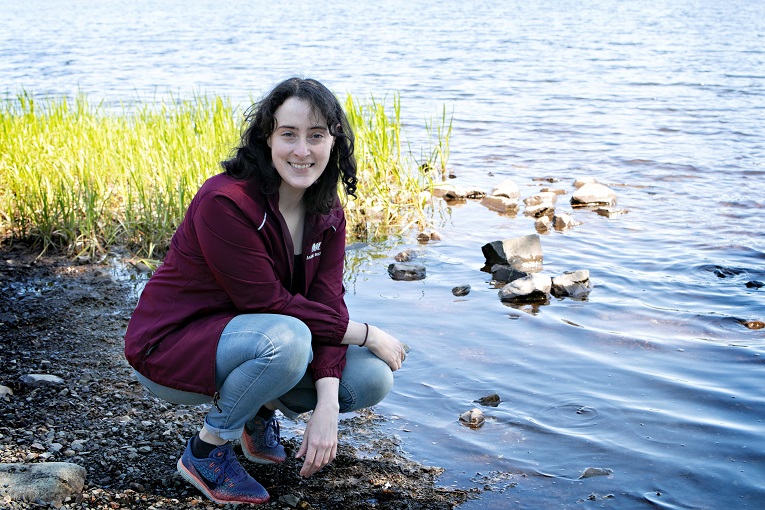 Scholarships and awards
Among the scholarships and awards she received at MI, Ms. O'Rielly says two stand out – the April Arnott Memorial Scholarship and the Fry Family Foundation Leadership Award.
"I'm so proud and grateful for each one."
Candidates for the April Arnott Memorial Scholarship are nominated by fellow marine environmental technology students for demonstrating academic ability and compassion toward others.
"This one really meant a lot to me because I was nominated by my classmates. That was incredible."
The Fry Family Foundation Leadership Award goes to students who demonstrate outstanding leadership throughout the course their program and community involvement. Nominees write an essay on what leadership means to them.
"It was during COVID and the essay was about keeping people together during that time because we were all apart – checking in on people and making sure they were doing OK.
"The real kind of leadership that I found in my class was lifting people up and doing small things to make sure that people felt comfortable – breaking the ice with some humour when people are about to hit the mic button in an online class."
Next steps
Ms. O'Rielly's future includes a Bachelor of Technology and finding ways to make a difference.
"I'd love to be able to work with ice in the Arctic, on climate studies and microplastics.
"It's really just about finding a place that will support the kind of work I want to do and a place that needs someone like me. So when those puzzle pieces slide together I'll be there."