The annual Fisheries and Marine Institute Scholarships and Awards ceremony was held Nov. 22 with donations from families and organizations providing 126 scholarships and awards to MI students.
Scholarships and awards were presented to students who have distinguished themselves in their respective programs through academic achievement, strong leadership skills, extracurricular activities and community involvement.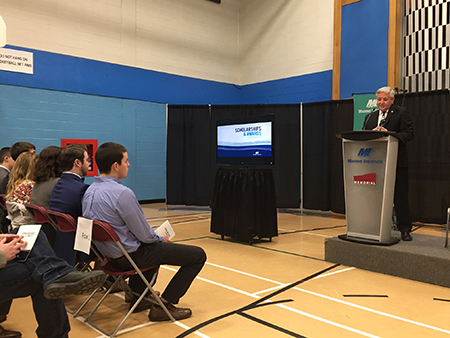 "All our scholarships are very important to the Institute and our students and their families," said Glenn Blackwood, vice-president, Memorial University (Marine Institute). "Many are being presented in memory of special friends and supporters of the Institute and the marine industries. Collectively, they recognize lifelong learning and valued relationships; and are a reflection of the strong connection we're proud to have with our donors."
The Honorable Al Hawkins, Minister of Advanced Education, Skills and Labour, was joined by Margaret Allan, vice-chair of the MI's Industry Advisory Committee and member of Memorial University's Board of Regents to congratulate the scholarship recipients and thank donors.
Over the past number of years, the Institute's portfolio of scholarships has grown and diversified. That trend continued in 2017 as the event marked the first time three new awards were presented including the Jamie Klein Memorial Award, the Teekay Heritage Class SPIRIT Award and the Captain Patrick Miller Award. The Institute also recognized the 30th anniversary of the establishment of Keith R. Kirby Scholarship.
"Our donors have supported the educational goals and dreams of hundreds of Marine Institute students over the years," continued Mr. Blackwood. "We are thankful for such a supportive community of donors and for inspiring our students to reach even further."