MI researchers restoring eelgrass beds and building artificial reefs in Placentia Bay

It's a foggy morning in late June as the Marine Institute vessel MV Inquisitor casts off from Arnold's Cove ferrying artificial reefs destined for North Harbour, Placentia Bay.
The four large concrete reefs weigh about 4,000 pounds apiece and resemble giant bee hives with holes for cod and other fish to swim through.
A smaller reef, about half the weight of the large ones, looks like a layer cake with narrow ledges where lobsters growing new shells can hide from predators.
As each reef is carefully lowered to the seafloor in water depths of 10-15 metres, a remotely operated vehicle (ROV) relays the video topside to ensure the reefs are placed correctly.
The camera also pans five other reefs previously deployed on site one fine day in March. Now, the weather allows for the team to complete the reef installation.
"There are fish in my reef – it's a good beginning," said Dr. Arnault Le Bris, a research scientist with the Marine Institute's Centre for Fisheries Ecosystem Research (CFER).
The reefs are part of a $4.7-million, five-year project to restore underwater eelgrass and create a new fish habitat in Placentia Bay. It's led by a team of researchers, staff and students at CFER and funded by the federal government's $71-million Coastal Restoration Fund.
Disappearing eelgrass
Twenty reefs have been deployed so far in Placentia Bay — half in North Harbour, the remainder in Placentia Sound. Another 10 are scheduled for Northeast Arm later this month, and more are destined for two other sites in St. Joseph's and Baine Harbour.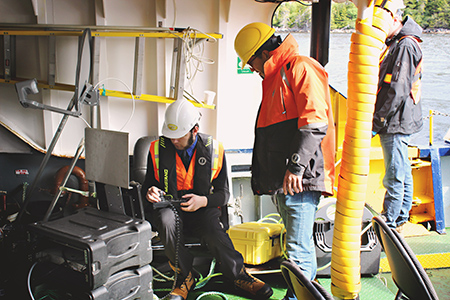 Each site will also be targeted for the restoration of nearby eelgrass beds.
"Eelgrass beds are disappearing in Placentia Bay and we hope to restore them," said Dr. Le Bris. "Annual monitoring of eelgrass beds is also a big part of this project."
Found in shallow coves and estuaries, beds of eelgrass serve as nurseries for juvenile fish, including Atlantic cod, and provide cover from predatory fish, birds and mammals. It's also critical in preventing seabed erosion.
With help from scuba divers this coming September, the researchers plan to disperse seeds and transplant eelgrass from healthy beds to the five sites targeted for restoration.‌
Site selection
When selecting the sites, the team consulted fish harvesters to ensure the reefs would not impact fishing activity.
Sites for eelgrass transplanting were selected based on the significance of eelgrass decline, proximity to healthy eelgrass beds and salmon rivers, and whether or not efforts have been made to reduce European green crab in the area.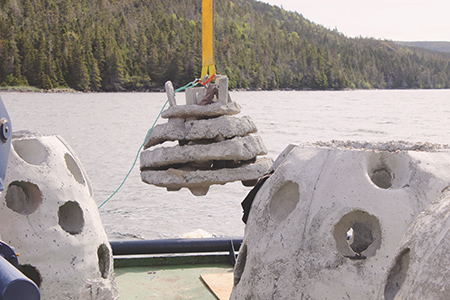 "One of the main stressors of the coastal ecosystem in the Placentia Bay is the invasion of green crab," said Dr. Le Bris.
This invasive species was first sighted in provincial waters in 2007. When burrowing for shelter or digging for prey, green crab can damage the stems and plant shoots of eelgrass beds.
Mapping eelgrass
The next step will be to monitor eelgrass beds in Placentia Bay on an annual basis.
Last year the team did preliminary aerial surveys using a drone. In September, when eelgrass is at its full size, they'll use a larger drone to map the beds.
"We were able to get very high-quality estimates," said Gordon Adams, fisheries acoustic data analyst with CFER. "Now, we're going to scale that up this year and do lower altitude flights, get higher level of detail, use better cameras and get publishable results.
"The bulk of the eelgrass is in a couple of metres of water, so it's easy to see 95 per cent of it," he continued. "From the imagery we get, we're able to stitch together maps using software."
In the future, Dr. Le Bris also hopes to create a citizen's science program to continue monitoring eelgrass.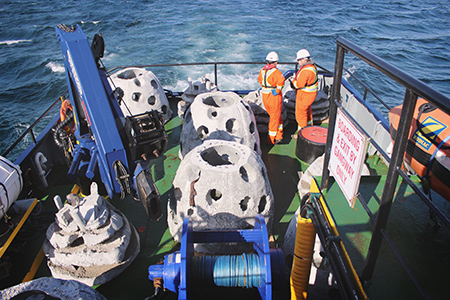 The team and partners
The project's core CFER team also includes Tom Brown, administrative director; Kiley Best, fisheries biologist; Tanya Prystay, a doctoral student in eelgrass restoration; and Caley Ryan, a master's student in green crab. Plans are in the works to hire a third graduate student for next year.
Project partners include the Fish, Food and Allied Workers Union, Salmonid Association of Eastern Newfoundland, Conservation Corps, Miawpukek First Nation, ACAP Humber Arm, Memorial's scuba diving team and the Marine Institute's School of Ocean Technology and Field Services.